How to Find an Electrician Job When You're Just Starting Out

LOOKING TO GET YOUR START IN THE ELECTRICAL TRADE, BUT NOT SURE HOW TO GET YOUR FOOT IN THE DOOR?

Maybe you've got a relative or friend who works in the electrical trade, you've heard their stories, and the job (and pay!) sounds great. Or maybe you don't know anybody in a skilled trade, but you've been poking around online and working as an electrician sounds promising.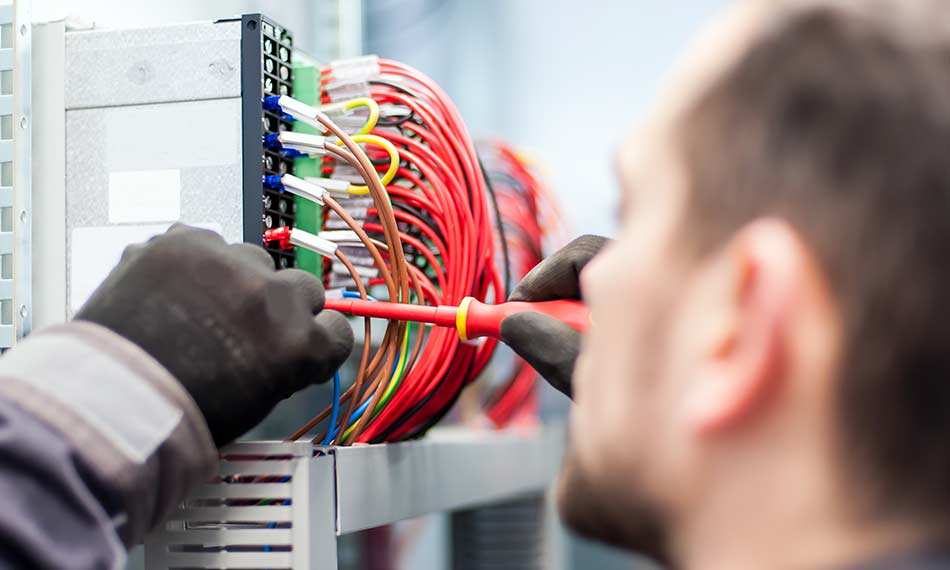 Either way, you'd like to get your foot in the door, but you're not sure where to start. First, you should know that in the state of California, you must be a card-carrying electrical trainee. To get an electrical trainee card, you must be currently enrolled in a training program, like our 26-week and 5-year training programs. If you enroll at I-TAP, we can help you get your foot in the door with employers.
But maybe you want to start building connections before taking on the financial obligation of enrolling in a training program. It's understandable to want to know that you've got a potential job lined up before you start spending money.
Here's a brief rundown of common ways that people like you started down the path to working as electricians.
Know someone who's an electrician or works in construction? Work those connections!
The electrical field, and construction in general, is a very old-school industry. While there are electricians who used LinkedIn and other high-tech tools to connect with other people in the industry, word of mouth and knowing people in the business has greater value.
If you have a relative who's an electrician, or works in some field of construction, ask them questions. Pick their brains. Odds are that they will know someone who is hiring laborers and would be willing to move you up to an electrical trainee position once you start your schooling.
It really is a small world, so if you know somebody who's already on the inside, they'll be able to point you in the right direction.
Don't know someone in the electrical business? Start knocking on doors.
Again, construction and electrical work is old school. Put together a local list of construction companies (electrical companies won't be able to hire you unless you're an E.T.). Put on a clean pair of pants and a work shirt—a suit and tie are a bit much—and start knocking on doors and introducing yourself.
Be sure to ask how best to apply for a job. Some companies may be willing to schedule an appointment with you to discuss hiring. Others may want you to turn in a paper application or fill out an online form.
Don't expect success right off the bat. Some businesses may politely decline, and others not so politely. But if you're putting your best foot forward and are positive and clear about your willingness to work your way up from the bottom, many will respect your drive despite your lack of experience.
It also helps to have a basic plan drawn up—either in your head or on paper—that you can provide if asked. For instance: "My goal is to ultimately sign up for a 5-year training program at I-TAP, but I think it's important to get the basics down, and learn what it's like working out in the field. So, I'd like to work for 6 months to a year on the jobsite doing basic labor before I sign up for my classes. Whenever you have a position open for an electrical trainee, I hope that you would consider me at that time. But until I have the skills you're looking for in a trainee, I'm willing to work hard at whatever job you'll consider me for."
Taking a tour at I-TAP or signing up for a class now is also a great way to find jobs.
Believe it or not, many of our students have referred one another both to us for electrical training, and for jobs as well. If you send us a message through our contact form, or give us a call at (916) 332-3332, you'll have a chance to see what we have to offer, and talk to some of our current students.
Take the time to ask them how they got jobs, what it's like starting out as a new trainee electrician, and if they have any ideas where you can get your foot in the door. You'll discover that our students, and electricians in general, are a supportive and helpful bunch.
Whether you give us a call or take your own path, if you work hard at it, you'll almost certainly find your way to a promising career working as an electrician.
Ready to learn a skilled trade and work on some of the most exciting commercial construction projects in California and beyond?
I-TAP is an electrical apprenticeship program that helps you find your passion, grow your skills, and place you in the perfect electrician job.