Electrician Apprenticeship: How to Become an Electrician

BECOMING AN ELECTRICIAN APPRENTICE IS ONE PATH TO BECOMING A COMMERCIAL ELECTRICIAN IN CALIFORNIA.

Potential students often ask us, "How do I become an electrician," or, "I've heard that I need to get an electrician apprenticeship, but I don't know what that is or where to start."
You have a couple of different options if you're looking to break into the electrical trade. To work in the state of California as an electrician—assuming you're just starting out—you must become an apprentice or trainee with a federally or state-approved program.
Previously we've talked about how to become an electrician trainee, as well as passing California's electrician examination to become a journeyman electrician. However, we haven't discussed in detail the other option for complying with California's regulations: becoming an electrician apprentice.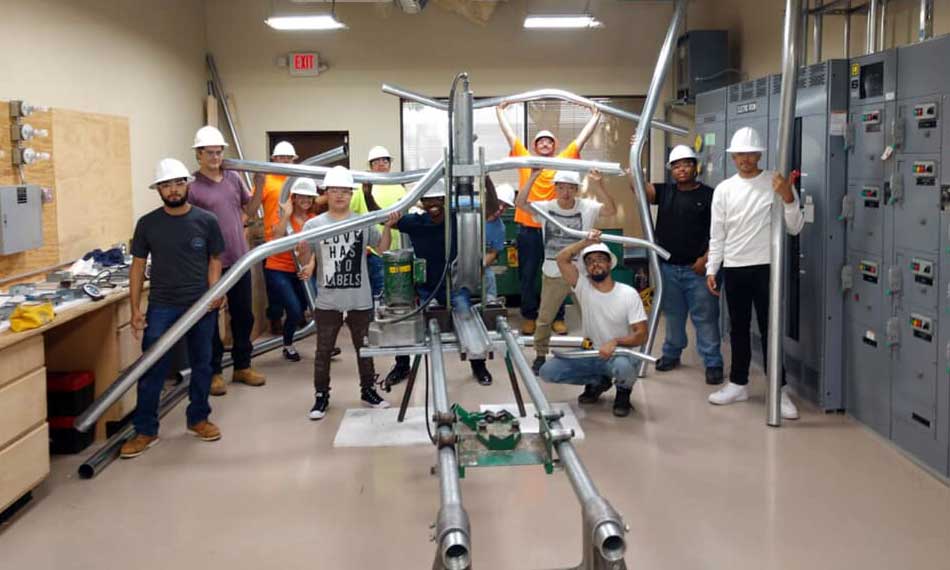 What is an electrician apprentice?
Like electrician trainees, apprentices are essentially entry-level electricians just starting the process of getting the experience and training they need to become journeymen electricians. Apprentices work in the field under the guidance of journeyman and master electricians.
Electrician apprentices start out doing very basic work. The assumption when you first work on a jobsite is that you don't have much expertise, so don't expect to be doing anything too fancy. You'll likely start out digging holes or running a lot of electrical wire.
How do you get into an electrical apprenticeship?
To be eligible to become an apprentice, you must:
Be at least 18 years old
Have a high school diploma or GED
Be physically capable of doing the work of an electrician
Pass a color blindness test (this is because electricians must be able to distinguish between various colors of wiring)
Pass a drug test
Provide a DMV printout
Have 1 year of algebra or pass a math assessment test
Participate in an in-person interview
With some programs, you may be asked to pass a written aptitude test, but this isn't always the case.
As should be clear from the above, being an electrician apprentice isn't just a job description. You can't just apply to any business to work as an apprentice. Apprenticeship programs are regulated by the state of California or the federal government. State and federal regulations require that apprenticeships be 'work and learn' type programs. You are paid for the time you work, but are also offered breaks during the year, during which you stop work to receive classroom training.
How long does it take to complete an electrical apprenticeship?
Apprenticeships typically require about 4 weeks of classroom training per year—the minimum amount of training required by law is 144 hours per year. Apprenticeship programs usually take 4 to 5 years to complete.
How much do you make as an electrician apprentice?
Pay scales for electrician apprentices vary depending on the organization or union managing your program. Starting pay during your first year as an apprentice may be as low as $12.50 per hour. After a couple years, you may make around $18 to $24 per hour.
However, working as an apprentice electrician comes with generous benefits, including medical insurance, coverage of training costs, and retirement plans.
Is becoming an apprentice the best way to become an electrician?
The answer to this question depends on your personal circumstances. If you need to make money now, and lack the means of paying for a trainee program, then becoming an apprentice is probably the least costly way of becoming an electrician.
However, it's not exactly accurate that apprenticeships allow you to get free training.
Why?
#1: As mentioned above, It takes several years, usually 4 to 5, in an apprenticeship program to learn the technical knowledge you need to become an electrician. This is why many prefer trainee programs, such as our 26-week trainee program. This gets all the required schooling out of the way up front, qualifying you to take the certification test. Once you pass the test, it's just a matter of working the hours necessary to become a journeyman electrician.
Getting the book work out of the way and accruing hands-on experience in a trainee program gives you a leg up on other workers who are still working through their apprenticeships, and accruing knowledge you may have already learned.
That advantage means you may be able to get jobs with significantly better pay, earlier on. In other words, trainee programs cost more upfront, but open the door to much better pay, much sooner.
#2: You should also know that wages for apprentices are determined by the apprenticeship program attended, and regulated by state law. Remember, apprenticeship programs are paying the upfront cost of your education, and they want to get some of that money back by having control over what they pay you. Currently, the minimum wage allowed for first-year apprentices in Sacramento is $14.20, plus benefits. That works out to $29,536 per year, assuming you work 40 hours a week, 52 weeks a year. Raises occur on a pre-determined schedule, as they are defined by the apprenticeship program and/or state.
If you still have questions about becoming an electrician apprentice, or the merits of becoming an apprentice versus an electrician trainee, give us a call! We'll be happy to answer all your questions, so you can make the most informed decision possible.
Ready to learn a skilled trade and work on some of the most exciting commercial construction projects in California and beyond?
I-TAP is an electrical apprenticeship program that helps you find your passion, grow your skills, and place you in the perfect electrician job.