ELECTRICIAN TRAINEE COURSES
Becoming a journeyman electrician requires not only on-the-job experience, but formal education as well. Scroll down to learn more about what makes I-TAP one of the most well respected electrical schools in the country, or click the button below to apply and take the first step into a career as an electrician.
Training Courses That Prepare You to Succeed as a Commercial Electrician
Practical experience is critical to succeeding as a commercial electrician. That's why we have the best hands-on lab anywhere. But you also have to complete 720 hours of instruction and pass California's certification test to become a journeyman electrician. I-TAP's program has been carefully designed to ensure that you can not only complete these requirements, but also attain the skills to start a successful, profitable career as a certified electrician.
Learn more about I-TAPs courses and how to prepare for the electrical certification exam
I-TAP's electrician courses prepare you to meet the educational requirements of an electrical trainee program in only six months!
Due to state and federal regulations, it is no longer possible for those interested in the electrical trade to simply get a job as an electrician trainee and work their way up. You must be enrolled in a certified apprenticeship or trainee program in order to work in the field.
Apprenticeship programs are typically 3 to 5 years in length. But at I-Tap, trainees receive the same learning experience and treatment as apprentices in only 6 months.
In just 6 short months, our trainee program will prepare you to take the California certification exam and be on your way to working as a journeyman electrician.
Subjects covered, and approximate hours per subject: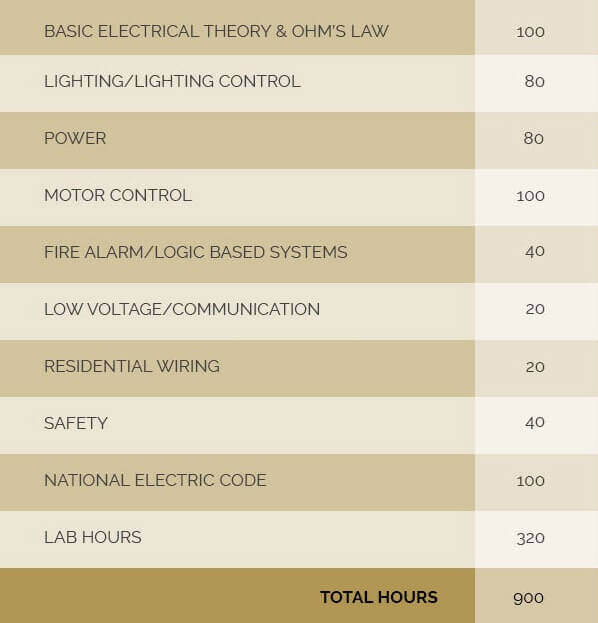 A/B, 1 pole, 3-Way and 4-Way Switching
Beginning and Advanced Pipe Bending
Drawing & Design
Fire Alarm
Generators
Instrumentation
Intro to PLCs
Lighting Control
Low Voltage Cable: Telephone/Data
Motor Control Stop/ Start/ Mag Starter
Motor Control: Grain Elevator
Motors ID: Hookup Winding Components
Meters/Test Equipment Throughout Program
Title 24: Motion Sensors
Plan Reading
Power Tools/Hand Tools
Transformers
Here's our course catalog, and everything you need to jumpstart your career as an electrician!
I-Tap's course catalog includes details on classes and courses that are required in order to start your career as an electrician in California.
Getting Started
Learn how to jumpstart your electrician career and how I-Tap's classes and labs help you prepare
Class Schedule
We start new classes all throughout the year. Check out our schedule for the current class year!