The 5 most common accidents in the construction trades

SAFETY IS A CONCERN FOR EVERYONE AT A CONSTRUCTION SITE, BUT ACCIDENTS CAN STILL HAPPEN EVEN TO THE MOST CAREFUL WORKERS

According to the Occupational Safety and Health Administration (OSHA), 21% of all work fatalities in 2018 happened to workers in the construction trades. Over half of these accidents were directly related to ten of the most common workplace safety violations reported to OSHA, ranging from a lack of safety equipment to failures at controlling hazardous materials or environments.
Workplace safety is critical for every laborer in the construction industry, and it's something that companies all over the US have worked to improve. For I-TAP's trainees, learning the basics of safety on the worksite —and understanding the various rules and regulations designed to protect them—plays a central role in preparing them for their careers.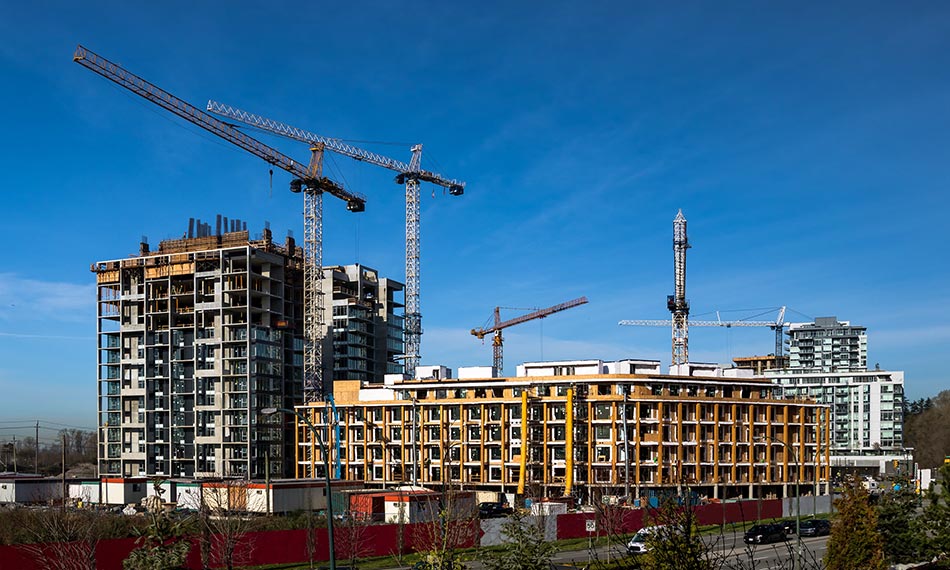 Vehicles, whether on the road or on a worksite, remain a considerable hazard to construction workers.
Of the 1,008 fatal work injuries reported by the construction industry across the US in 2018, vehicles played a role in a quarter of these accidents. Many of these occurred while in transit between destinations, with vehicle collisions or crashes into other objects on major roadways, oftentimes during the delivery of materials, equipment, or personnel.
The average construction workers can find themselves working on or around large transport trucks, or specialized construction vehicles depending on their role and job site. These vehicles represent an inherent danger to workers, and so clear communication and adhering to safety guidelines is a must in order to prevent accidents.
However, a busy construction project is filled with potential distractions and loud noises, and a distracted worker may not see or hear a vehicle until it is too late. These risk factors can be exacerbated by unsafe vehicle operation, or a lack of training, which can lead to vehicle collisions and serious property damage on a work site.
Falls, falling objects, electrocution and being trapped or crushed by equipment account for most preventable construction injuries and deaths.
Referred to as the "fatal four," these accidents accounted for nearly 60% of all fatal injuries among construction workers in 2018. The risk factors associated with each of these accidents can be found in nearly every sector of the industry, though some are more prevalent depending on the type of construction work.
Falls
Fall accidents accounted for 33.5 percent of construction worker deaths in 2018, and tens of thousands are injured each year. Whether it's a fall from a great height, or the result of tripping over a ground-level hazard, falls are a universal threat to construction workers, though some occupations may have increased risks.
Roofing is widely considered one of the most dangerous construction trades, as it requires regularly climbing and descending from heights. Naturally, this places these workers in the greatest danger of a fatal fall.
But even workers who are not expected to climb up high scaffolding or on rooftops to do their job can be seriously injured in a fall. An electrician pulling heavy cabling can trip over improperly stowed materials or equipment and strike their heads against the ground, reinforcing the need for proper head protection on any jobsite.
Despite national efforts to educate construction workers on fall prevention, fall protection violations are the most frequently cited OSHA standards. Other related violations include unsafe scaffolding, ladders, and failures to provide adequate personal safety equipment (including fall protection harnesses and safety helmets).
Struck by Object
Injuries and fatalities from being struck by objects on the worksite are the second leading type of accident among the "fatal four." In 2018, just over 11 percent of all reported construction fatalities involved falling objects.
As noted above, construction sites can be busy places filled with hazards and potential distraction. The greatest protection against falling objects in these environments is communication between attentive workers, warning signage where necessary, and the proper use and stowing of tools and equipment.
While falling tools and equipment represent obvious threats, many injuries can involve simply walking into a hard object. An electrician working on a home's wiring can strike their heads or sustain eye injuries while moving through crawl spaces, or while climbing into an attic. Dust or debris can get into their eyes, which could make it difficult to avoid more serious hazards.
Electrocution
Roughly 30,000 electrocution injuries occur in the US every year, accounting for 5% of burn injuries across the country. Over half of all fatal electrical injuries between 2003 and 2017 occurred within the construction industry.
Electricians are particularly at risk for these injuries because they are often in direct contact with or working near high voltage equipment. But other construction workers can be exposed to similar hazards, including improperly stowed energized equipment, loose electrical cables, and arc flashes.
A majority of electrocution injuries and fatalities are preventable accidents. Adhering to safety standards has helped to reduce the threat to workers, but electrocution remains the fourth-leading cause of work-related deaths in the US today.
Caught between objects and equipment
Being caught in between moving objects and equipment was the fifth leading cause of fatalities among construction workers in 2018. Even if this type of accident is not outright fatal, such injuries often have life-long consequences for the worker.
Some of these accidents are the result of factors that are outside of anyone's direct control. Many others could have been prevented through proper communication of hazards to workers, improved training, and adherence to best safety practices.
While these five types of accidents represent the bulk of fatalities and life-changing injury among construction workers, there are many other injury risks.
Most of the accidents described above are events that can have immediate consequences to the affected workers. And while thousands are affected every year by these incidents, many more are at risk of injuries that take place over time.
Work on construction sites often involves repetitive, high physical stress motions in sometimes challenging environments. A bricklayer can be expected to perform thousands of 'forward bending tasks' over the course of a work week, which could cause serious back injury over time, or in single moment of improper motion. Electricians working on a commercial construction project may be asked to pull and lift heavy electrical conduit throughout the worksite. Entry level electrician trainees may find themselves digging trenches for that electrical equipment.
While workers recognize that that there is always the potential for these physical injuries, other types of injuries go unnoticed. This is certainly the case with hearing loss. Construction sites are naturally loud environments, which can lead to progressive hearing loss over time. Alternately, collapsing scaffolding, dropped equipment, or vehicle collisions can cause more immediate hearing loss. Both can be a serious hazard to workers, as they may be more likely to miss important warnings from their peers, or sounds from vehicles and other equipment near them.
Communication between workers and situational awareness is one of the most important factors in preventing accidents and injuries. But the loud nature of construction sites can exacerbate many of these hazards due to hearing loss and injury. Whether the hearing loss is the result of many years in construction, or the temporary result of a recent accident on the worksite, a worker may not hear warnings from their coworkers, or the sounds issued by vehicles and equipment.
Working in the construction trades is rewarding, and experienced tradespersons are always going to be in demand. But almost every trade in construction requires physical labor in environments filled with potential hazards. While serious accidents can and do happen, by following the best safety practices and adhering to OSHA standards, you can minimize the danger of these common accidents. Most construction workers enjoy long careers in the industry without major injuries simply by paying attention to their surroundings, and ensuring those around them are doing the same.
Ready to learn a skilled trade and work on some of the most exciting commercial construction projects in California and beyond?
I-TAP is an electrical apprenticeship program that helps you find your passion, grow your skills, and place you in the perfect electrician job.