Choosing the Best Personal Protective Equipment for Electricians
SOME OF THE MOST IMPORTANT PIECES OF GEAR THAT ANY ELECTRICIAN WILL INCLUDE WITH THEIR TOOL BOX IS A SET OF PERSONAL PROTECTIVE EQUIPMENT.
Working with electrical equipment is inherently risky due to the risk of electrocution. Despite extensive improvements in safety over the years, about 400 workers are severely electrocuted every year. When the National Institute for Occupational Safety and Health (NIOSH)—a federal agency tasked with making workplaces safer—analyzed records of fatal electrocutions on jobsites, they identified five key scenarios which led to severe electrical injuries:
Touching an electrical line—often believed by the worker to not be live, or to be insulated enough to not present a risk.
Touching live equipment, such as an energized electrical circuit.
Guiding suspended loads via crane or other equipment as it makes contact with an electrical line.
Touching equipment that has been damaged or improperly installed.
Moving a piece of metal equipment, such as a ladder or scaffolding, and bringing it into contact with an electrical line.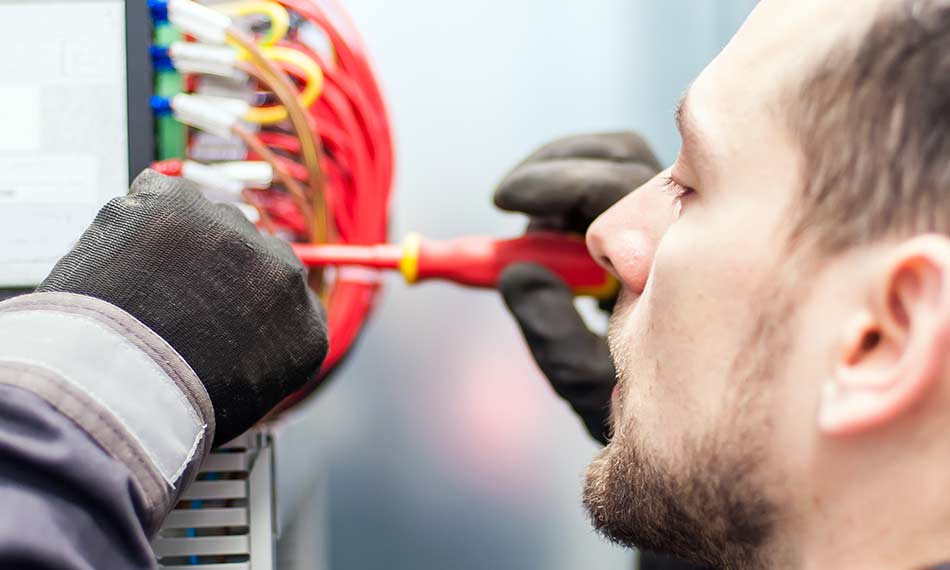 To ensure that people who work around electrical equipment are as safe as possible, the Occupational Safety and Health Administration developed OSHA Standard 29 CFR 1910.269, also known as the "269" standard. This series of requirements "covers the operation and maintenance of electric power generation, control, transformation, transmission, and distribution lines and equipment." In addition to the training and safety requirements it places on employers, it also provides specific standards for the personal protection equipment (PPE) workers are expected to wear while working on energized and inert electrical equipment.
PPE includes safety helmets and glasses, insulating gloves and sleeves, safety boots and shoes, fall protection, and flame-resistant clothing. Picking the right gear ensures your safety while on the job, so it's important to use equipment that can protect you from the electrical loads you'll be working on or around.
Proper insulating gloves protect your hands, which is the part of the body which most frequently comes into contact with electrical equipment.
Electricians rely on their hands to do their work, either directly in contact with electrical equipment, or using specialized tools. Unsurprisingly, one of the most common situations leading to electrical injuries involves a worker's hands being poorly protected or not protected at all while working on energized wires and equipment.
Oftentimes, electricians don't work on energized worksites, and don't need to worry about the risk of electrocution. But when you're working around hot electrical equipment, or there is the possibility of energized equipment on the worksite, having the right gloves and sleeves is essential.
Electrical safety gloves are actually three gloves layered over one another, with each being made from a different material. The inner-most layer is a liner glove designed to keep your hands comfortable by absorbing sweat in the summer and holding heat in during the water. These are often made from cotton or a synthetic acrylic material.
The outer-most layer is a leather protector glove that helps protect against cuts and tears. While some electricians don't wear leather protectors, they are critical to protecting against wear and tear that can compromise the insulating capacity of your electrical gloves. If the leather protector is starting to tear or break down, it should be replaced immediately.
Sandwiched between these two gloves is the rubber insulating glove, which is what prevents electricity from being conducted into your body.
There are two types of electrical safety gloves that fall under multiple classification levels of protection.
Workers have suffered severe electrical injuries even while wearing safety gloves that technically meet the 269 standard. This is because the gloves were either damaged, or encountered voltages which exceeded their protection levels.
When picking up a set of insulating gloves, electricians must be certain that they've picked up the right type of glove that protection for the voltages they can expect to work around. Currently, manufacturers produce what are known as Type I and Type II insulating gloves.
Type I gloves are non-resistant to ozone, a gas that is commonly generated by high voltage equipment, and which can break down the insulating rubber layers and compromise the protection offered by the glove. They are more suitable for low-voltage applications where ozone is not likely to be a factor. Type I gloves are also vulnerable to UV ray exposure, which can be problematic if the gloves are left out in sunlight for extended periods.
Type II gloves are better suited for high voltage applications, as they use rubber that is resistant both to ozone and UV rays. Many electricians choose Type II gloves because of these properties, regardless of whether they work in high voltage environment.
In addition to the two types of glove, every electrical glove sold in the United States is classified by OSHA according to the maximum voltage protection they have been approved for:
Class 00 – 500 volts AC / 750 volts DC
Class 0 – 1,000 volts AC / 1,500 volts DC
Class 1 – 7,500 volts AC / 11,250 volts DC
Class 2 – 17,000 volts AC / 25,500 volts DC
Class 3 – 26,500 volts AC / 39,750 volts DC
Class 4 – 36,000 volts AC / 54,000 volts DC
According to OSHA standards, insulating gloves must be electrically tested before they are issued for use. Gloves may provide some protection against much higher voltages than they are approved for, but always choose a glove with an approval rating appropriate to the voltages you work around.
Gloves and sleeves must be regularly inspected before use, and replaced immediately at the first signs compromised protection.
Before donning your gloves and sleeves for the workday, it is important to inspect them for obvious damage. If parts of the glove appear melted, show evidence of abnormal swelling, or have other clear physical damage to the surface, you should immediately discard your gloves and purchase new ones.
Additionally, all gloves should be regularly air tested to ensure that there are no gaps where electricity can pass through the insulating layers. If you blow air into the glove and seal it, and see that air is escaping, it's time to replace it.
Additionally, avoid bringing your gloves into contact with oils and petroleum products, as these can break down the protective rubber layers. Swelling of the rubber layers can be a symptom of petroleum contamination.
Helmets protect electricians from both electrical and impact injuries, both of which are all too common.
Traumatic brain injury remain one of the most common dangers faced by construction workers today, and unsurprisingly it is also a threat for electricians, given the tight spaces they often work in.
OSHA standard 29 CFR 1915.155(a)(2) requires that protective hard hats be worn on work sites when there is a potential for head injuries caused by falling objects, or a risk of electrical shock. All such hard hats must comply with American National Standards Institute (ANSI) standard Z89.1.
If you are buying a helmet for use, or if one is being issued to you at the worksite, it is critical that it provides both impact and electrical hazard protection.
For impact protection, there are two types defined by ANSI Z89.1. Type I offers protection to the top of the head, while Type II offers protection to the top and sides of the head.
In addition to these types, hard hats are further classified by the level of protection they provide against electrical hazards.
Class C hard hats offer no electrical protection. These hard hats are often made from conductive materials. While some are made from non-conductive materials, they have holes in the shell intended for ventilation which also allow electricity to easily pass through and penetrate the wearer's head.
Class G hard hats provide general protection against electrical hazards and are rated for 2,200 volts.
Class E hard hats are rated for up to 20,000 volts of electricity. These are typically employed in environments where high voltages are present, and the risk of arc flashes is high.
Hard hats require regular inspections, and after years of use will require replacement.
Obvious warning signs include visible physical damage, such as dents and cracks.
Damage may not be immediately evident. Test the hard hat by squeezing the sides with both hands. Audible creaking and groaning may indicate the hard hat is compromised and will allow an electrical current to pass through.
Storage location is also critical. Stowing a hard hat in your car where its exposed to sunlight and heat can degrade it much faster than normal. Harsh chemicals can also degrade the protective materials.
Hard hats should be cleaned regularly. Mild soap and warm water are recommended. However, if there is tar, sap, or other hard to remove materials that the above cleaning solution cannot address, it may be best to replace the hard hat altogether, as using harsher chemicals and solvents could compromise the shell.
Hard hats should be stored somewhere cool and away from direct sunlight when not in use. Avoid storing them near high heat sources, like ovens, stoves, furnaces, gas-powered fire places, etc.
Hard hat manufacturers all have recommendations for when a hard hat should be repaired or fully replaced.
Protective eyewear should be worn by all electricians.
Many eye injuries have been prevented due to the use of proper eye protection by electricians and other workers on construction sites. In many cases where injuries have occurred, it has been because a worker was wearing prescription glasses, rather than eyewear designed to protect the eyes.
OSHA standard 1910.133 requires that employers ensure that workers are wearing adequate eye protection that is appropriate for their environment. There is a wide range of eye protection available, including specialty prescription safety glasses to accommodate workers with vision impairments.
While not every electrician will be on a large construction site, eye protection is still an invaluable part of the job. In addition to protecting the eyes from direct physical harm, they can also guard against dust and dirt in confined spaces, which can directly cause harm, or prevent you from seeing a hazard until it is too late.
Shoes and work boots rated for electrical hazards can provide additional protection on any worksite.
Proper footwear on a worksite should emphasize an electrician's personal safety, while also remaining comfortable enough to work in for hours at a time. Wanting to maintain your personal look and style is no excuse for not wearing proper work boots. Today, work boots come in a variety of designs and styles, and even major footwear companies have entered the market with proper work boots that don't compromise on looks or safety.
Electricians who are looking for work boots or shoes should consider where they are going to be working. If you're primarily on construction sites, you will probably want heavier duty boots to protect against falling tools, accidental impacts against equipment, and punctures from stepping on exposed nails. But if you're a residential electrician, you might prefer the comfort and greater maneuverability found in lighter weight shoes. Ideally, whether a shoe or a boot, the soles should be thick enough to provide protection against electrical current as well as sharp objects.
Footwear designed for worksites are rated for a variety of use cases, and not all are safe for electricians to use. When selecting work boots, look on the box or tag for a white square with an ohm symbol (the Greek letter omega, which looks a bit like an open-bottomed letter 'o'), and to the right of that the letters SA with a large C wrapped around them. Or if you're shopping online, the symbols should be shown somewhere on the page.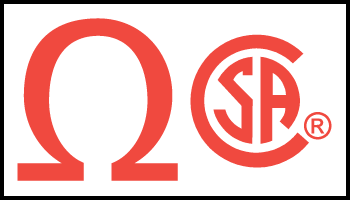 This tag is known as the 'CSA White Rectangle', and indicates that the sole and heel of the boot or shoe has been designed specifically to resist electrical shocks of up to 18,000 volts, as well as leakage current of no more than 1 milliamp for 60 seconds. These boots have additional safety features, such caps on the laces and laces eyelets which are nonconductive.
What if your employer requires toe protection on your work boots?
Ideally, any work boots you choose should provide adequate toe protection against falling tools and equipment, with some sort of steel toe or hard cap at the tip of the boot. But many electricians are wary about getting steel-toed boots because of the risks posed by electrical currents, even if their employers mandate having footwear with this additional protection.
However, OSHA currently does not recommend against steel toe protection so long as it does not make direct contact with a person's foot. Many shoe and work boot manufacturers who utilize steel toe protection protect against the risk of electrocution by coating the protective caps in rubber and leather, which prevents the material from conducting electricity. Workers should regularly inspect their boots to ensure that this protective material does not crack or peel away from the steel toes.
For electricians who are still wary about steel toe boots, many manufacturers use non-conductive alloys and composite materials, which offer comparable protection while eliminating the risk of conducting currents.
Wearing flame-resistant clothing can help to minimize the injuries resulting from arc flashes.
One of the greatest threats to electricians working in environments where high voltages are passing through equipment is an arc flash. Reaching temperatures that far exceed the surface temperature of the sun for fractions of a second, an arc flash can cause an explosion that sends superheated materials, including molten metal, into the surrounding environment. This in turn can ignite secondary fires or even cause clothing to combust or melt.
Most electricians will not work in environments where arc flashes of this nature are a serious risk. But even lower voltages can cause serious physical injuries and ignite clothing.
OSHA's 269 standard prohibits workers from wearing clothing that could increase the extent of electrical injuries. That means clothing made from synthetic materials like acetate, nylon, polyester, and rayon are prohibited.
Clothing made from 100% cotton or wool, if they are the right weight, can minimize injuries. However, they can still present a fire hazard to an electrician under certain circumstances.
Employers must ensure that any clothing they provide does not include prohibited materials, or demonstrate that it has been treated to be flame resistant in the conditions the electrician will be working in. Whether you're an electrician who works on commercial-level systems on large construction sites, or you work on residential systems at lower voltages, it is important that the clothing you wear offers some level of flame resistance. Even if you do experience a serious shock, you may be spared serious injury if you wear clothes that don't catch fire as a result.
For electricians working high above ground, safety harnesses cannot be neglected.
Most electricians do not work on power lines suspended high off the ground. But over the course of your career, there may be instances where you are expected to work above the ground on roofs or construction scaffolding.
For electricians, there are safety harnesses that meet the NFPA 70E standard. Used properly, these harnesses can prevent serious fall injuries, without endangering the wearer with conductive materials.
If your workplace does not provide such harnesses, or expects you to purchase one, be sure to thoroughly study which harness you end up purchasing to ensure that it meets the standard. Many such harnesses will advertise that they are specifically designed for instances of arc-flash and arc-blast exposure.
The level of protection an electrician needs scales with the voltages they are working around, and the nature of their work site. This article only covers a fraction of the information our students will learn over the course of their training here at I-TAP. If you're interested in a career as an electrician, contact us today. Our courses will help you learn all the critical safety information you need for a long and successful career, without putting you and your fellow workers at risk!
Ready to learn a skilled trade and work on some of the most exciting commercial construction projects in California and beyond?
I-TAP is an electrical apprenticeship program that helps you find your passion, grow your skills, and place you in the perfect electrician job.