How to Become an Electrician

WHAT DO YOU NEED TO DO TO BECOME A LICENSED ELECTRICIAN IN CALIFORNIA? READ ON TO FIND OUT!
The path to becoming a licensed electrician can feel very confusing. It's not unusual for potential students to approach us, asking "I've heard that you have to do some sort of schooling, and that I need to start an electrician apprenticeship or become a trainee, but I don't what the difference is or where to start."
You have a couple of different options if you're looking to break into the electrical trade. To work in the state of California as an electrician—assuming you're just starting out—you must become an apprentice or trainee with a federally or state-approved program.
Previously we've talked a little about how to get your electrician trainee card, as well as passing California's electrician examination to become a journeyman electrician. But in this article, we're going to put all the pieces together as to what your options are for becoming an electrician.
First, let's start by talking about apprenticeships.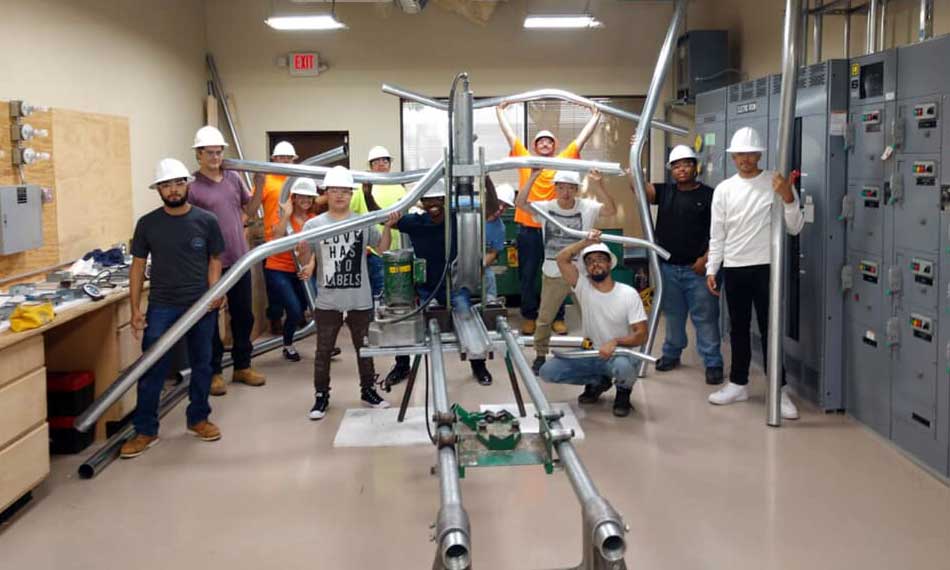 What is an apprentice electrician?
Apprentices are essentially entry-level electricians just starting the process of getting the experience and training they need to become journeymen electricians.
Apprentices don't just go to school. Most of the time, they work in the field under the guidance of journeyman and master electricians. In other words, they get hired by a company as apprentices, rather than going straight to school.
Electrician apprentices start out doing very basic work. The assumption when you first work on a jobsite is that you don't have much expertise, so don't expect to be doing anything too fancy. You'll likely start out digging holes or running a lot of electrical wire.
How do you get into an electrical apprenticeship?
To be eligible to become an apprentice, you must:
Be at least 18 years old
Have a high school diploma or GED
Be physically capable of doing the work of an electrician
Pass a color blindness test (this is because electricians must be able to distinguish between various colors of wiring)
Pass a drug test
Provide a DMV printout
Have 1 year of algebra or pass a math assessment test
Participate in an in-person interview
With some programs, you may be asked to pass a written aptitude test, but this isn't always the case.
As should be clear from the above, being an electrician apprentice isn't just a job description. You can't just apply to any business to work as an apprentice. Apprenticeship programs are regulated by the state of California or the federal government.
Apprenticeships are 'work and learn' type programs. You are paid for the time you work, but are also offered breaks during the year, during which you stop work to receive classroom training.
How long does it take to complete an electrical apprenticeship?
Apprenticeships typically require about 4 weeks of classroom training per year—the minimum amount of training required by law is 144 hours per year.
Because apprentices spend most of their time working, apprenticeship programs usually take about 4 to 5 years to complete.
How much do you make as an electrician apprentice?
Pay scales for electrician apprentices vary depending on the organization or union managing your program. Starting pay during the first year of your apprenticeship will likely be around $18 to $22 per hour. But this can vary significantly according to your location. Your pay will increase every year, as you accumulate experience and schooling.
This may sound low, but remember working as an apprentice electrician comes with generous benefits, including medical insurance, retirement plans, and so on. More importantly, the cost of your education is included as well.
Is becoming an apprentice the best way to become an electrician?
The answer to this question depends on your personal circumstances. If you need to make money now, and lack the means of paying for a trainee program like I-TAP's, then becoming an apprentice is probably the least costly way of becoming an electrician.
However, it's not exactly accurate that apprenticeships allow you to get free training.
Why?
As mentioned above, It takes several years, usually 4 to 5, in an apprenticeship program to learn the technical knowledge you need to become an electrician. This is why many prefer trainee programs, such as our 26-week trainee program. This gets all the required schooling out of the way up front, qualifying you to take the certification test. Once you pass the test, it's just a matter of working the 8,000 hours necessary to become a journeyman electrician.
Getting the book work out of the way and accruing hands-on experience in a trainee program gives you a leg up on other workers who are still working through their apprenticeships. Apprentices in their third, fourth, and even fifth years will be going to school to learn topics that trainees learned in a six-month program, before they ever even walked onto a jobsite. In addition, as a trainee, you won't have to take a job as an apprentice where the cost of your education is being docked from your pay.
Those advantages mean trainees may be able to get jobs with significantly better pay, earlier on. In other words, trainee programs require you to pay your way up front, but open the door to much better pay, much sooner.
#2: You should also know that wages for apprentices are determined by the apprenticeship program attended, and regulated by state law. Remember, apprenticeship programs are paying the upfront cost of your education, and they want to get some of that money back by having control over what they pay you. Odds are that if you become apprentice, you'll start out making about $40,000 per year, plus benefits. On the other hand, if you go the trainee route, you have far more flexibility when it comes to applying for jobs, while all apprentices in a region make the same amount, no matter which apprenticeship they take.
OK, so let's take a step back and talk about electrician trainees.
What is an electrician trainee?
The state of California requires anyone and everyone working as an electrician to have gotten formal training, or be in the process of getting formal training, to work as an electrician. Electrical contractors are barred from hiring anyone who doesn't meet this requirement.
Some beginner electricians take the apprenticeship path, as we've just discussed.
Others instead get their schooling out of the way up front by going to an approved electrical school that is "Approved to Offer Whole General Electrician Curriculum." You can see a screenshot of our listing on the State of California Department of Industrial Relations' List of Approved Schools below.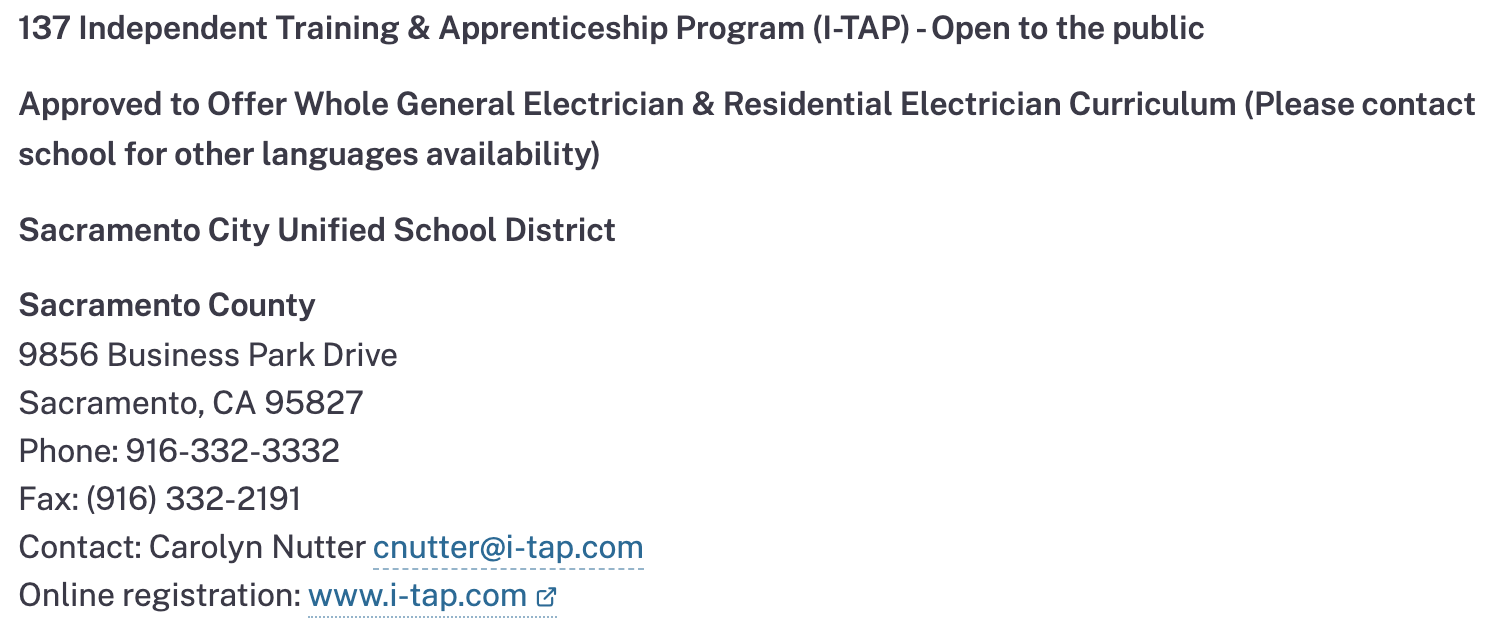 What is an electrician trainee program?
An electrician trainee program offers all the formal education that apprentices receive in the few weeks of schooling they attend every year over the course of their apprenticeship. But trainees get all that schooling out of the way up front.
At I-TAP, our commercial electrician program is a 26 week, 900 hour-long course. But it's not all bookwork. Trainees spend about at third of their time here in our hands-on lab. So, it's not just a matter of sitting in a classroom. You learn how to do the job as well, working under the guidance of instructors who spent decades working as commercial electricians.
You'll need to register as an electrician trainee with the state of California.
Once you're enrolled in a trainee program, you'll need to let the state of California know that you're in the process of getting your required training. To do so, you'll need to do four things:
Fill out an "Application for New Registration of Electrician Trainee or Reinstatement" form.
Write a check or money order for $25 payable to "DIR – Electrician Certification Fund."
Get a copy of your proof of enrollment from your school.
Mail these three items to:
DIR - Division of Labor Standards Enforcement
Attn: Electrician Certification Unit
P.O. Box 511286
Los Angeles, CA 90051-7841
Be very careful and double check everything before you send your application to the DIR. If you make a mistake, you'll have to do it all over again.
Assuming you did everything correctly, you'll receive your electrical trainee card ("ET card"), and you'll officially be recognized as an electrician trainee by the state of California.
Until you complete your schooling and complete the required work hours, you'll have to renew your registration every year by filling out and submitting a "Application for Renewal of Registration of Electrician Trainee" form. You won't need to submit payment for your renewals, but you will need to include either a current proof of enrollment from your electrical school and an unofficial transcript, or if you've completed your schooling, a document from your school verifying you've completed your coursework. Mail all of the renewal paperwork to the address above.
You'll need to accrue mandatory work experience to be licensed as a general electrician.
Your education doesn't stop once you complete your schooling. After you graduate from I-TAP or whatever electrical school you choose, you'll be able to get a job with a C-10 electrical contractor as an electrician trainee. Just so you know, a C-10 electrical contractor is someone who's gotten the experience and licensure necessary to (1) open their open business as a contractor in the state of California, and (2) oversee the work of other electricians. This is roughly equivalent to what some states call "master electricians."
Working for a C-10 contractor, you'll need to accrue 8,000 hours of experience. The hours you earn must fall into two or more categories of experience, with the maximum number of hours per category that can count towards the required 8,000 hours being as follows:
Commercial wiring: 6,000 hours
Finish work and fixtures: 600 hours
Fire/life safety, nurse call: 600 hours
Industrial wiring: 6,000 hours
Residential wiring: 3,000 hours
Stock room and materials handling: 300 hours
Troubleshooting and maintenance: 1,500 hours
Underground conduit installation: 750 hours
Voice, data and video installation: 1,500 hours
You may know someone working as an apprentice or trainee who doesn't have to work as many hours to gain their required experience. That's because the state of California offers 5 different electrical certifications, with differing hours of experience required:
General Electrician - 8,000 hours
Residential Electrician - 4,800 hours
Fire/Life/Safety Electrician - 4,000 hours
Voice Data Video Technician - 4,000 hours
Non-Residential Lighting Technician - 2,000 hours
It's easy to feel a little jealous of someone who doesn't have to get as many hours of experience. But, think of it this way. If someone's only certified to be a residential electrician, but there isn't much housing construction going on, they're going to have a tough time finding a job. Being licensed as a general electrician is the highest level of certification for electrical work (not including C-10 licensure, of course), which means that you can do just about any job, while lesser licenses mean you can only work on certain types of jobs.
Then you'll need to take the general electrician certification exam.
All right, you've gotten your ET card, completed your schooling, and accrued your 8,000 hours of experience. Now what? You've got one more hurdle to clear: passing the general electrician certification exam.
To be eligible for the exam, you have to fill out the "Application for Electrician Examination and Certification," attach payment for $75 for the application, and another $100 for the certification exam ($175 total), and mail everything to the Department of Industrial Relations (DIR) address listed earlier in this article. Bear in mind, you can actually take the test before you get your required experience. Some of our students take the exam immediately after they complete their schooling, even before they get a job, just to get it out of the way. If you're considering this approach, take some time to talk to your instructor or a school rep to get some advice.
Once the state has approved you to take the test, you have one year to do so. If you fail, you can retake it 60 days after your first attempt, and you can retake the exam as many times as you need to during your one year of eligibility. If you don't manage to pass it within a year, you'll have to resubmit your exam application.
The general electrician exam is an open-book test (meaning you can use any books, notes, or other references you like), consisting of 100 questions. You have 4 hours and 30 minutes to complete the test, and to pass you must achieve a score of 70% or better. You can find sample questions on the DIR's certification exam page.
Once you pass the exam, you'll no longer be an electrician trainee (or apprentice), and instead become a fully certified general electrician in the state of California!
If you still have questions about becoming an electrician trainee or apprentice, give us a call! We'll be happy to answer all your questions, so you can make the most informed decision possible.
Ready to learn a skilled trade and work on some of the most exciting commercial construction projects in California and beyond?
I-TAP is an electrical apprenticeship program that helps you find your passion, grow your skills, and place you in the perfect electrician job.