How do you get a C-10 electrical contractor license?

EARNING YOUR C-10 WILL OPEN THE DOORS TO GREATER EMPLOYMENT OPPORTUNITIES, AS THE DEMAND FOR TRAINED AND EXPERIENCED ELECTRICIANS GROWS

Please note: I-TAP does not handle C-10 licensing. For any questions you may have about obtaining a California C-10 license, please contact the Contractors State License Board at their website or at 1-800-321-2752.
Electricians are in demand across the country, to the point where large electrical contractors have resorted to hiring services to find workers for projects. And the demand only looks to be increasing. The Bureau of Labor Statistics predicts that the number of employment opportunities for electricians will grow by 10 percent between 2018 and 2028, fueled by a rise in construction spending.
While this increased demand for new construction will not last forever, changes in regulations,  such as legislation that will require many new single family homes and multi-family buildings to have solar power systems will help to continue to drive the demand for electricians.
The need for electricians isn't going away any time soon, and large contractors are still hiring to handle the demand. But many electricians, and even aspiring electricians, are considering aiming higher by starting their own electrical contracting businesses. The services are needed, and the money is there for those willing to reach for it. But what do you need to get started?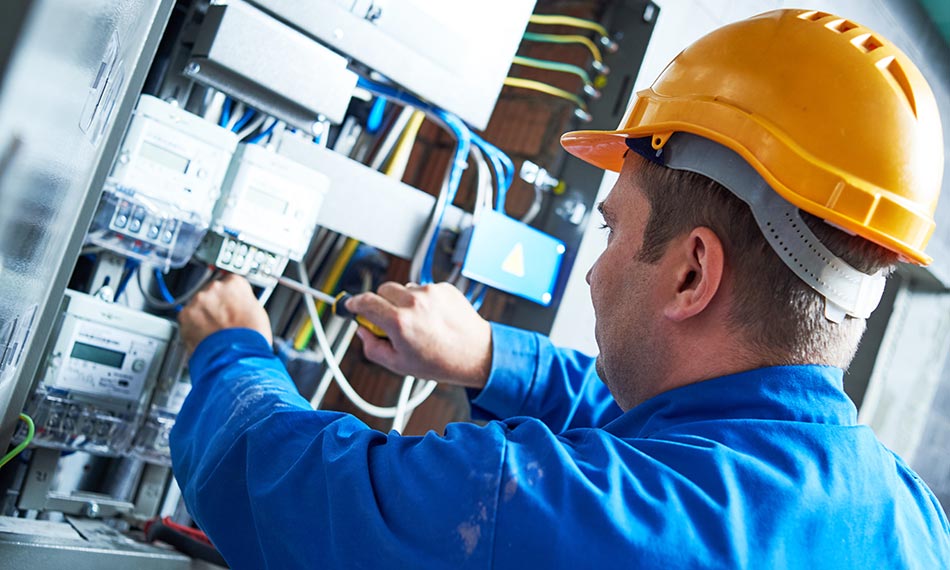 A C-10 electrical contractor license is required by California law to work as an electrical contractor, and you must meet several employment and background requirements to obtain one.
In order to both start your business as an electrical contractor, and work on projects valued at $500 or more, California law requires that you obtain a C-10 electrical contractor license.
Obtaining the C-10 from the California Contractors State License Board (CSLB) requires the following:
Complete an approved California electrical apprenticeship program, and earn a Certificate of Completion of Apprenticeship. This is required for your C-10 application.
Earn your electrical certification card, which lets you work as a journeyman under a C-10 contractor.
Obtain employment as a journeyman for at least one year. C-10 applicants need only submit a single year of work experience if they have completed an apprenticeship program.
Alternatively, you can have at least four years of experience as an electrician at journeyman level or higher, without having to complete an apprenticeship program. These years do not need to be consecutive, but they must fall within ten years of the date you apply for your C-10.
If you have completed an apprenticeship program and have met the work requirements, or you have the four years of experience as a working journeyman, you can then apply to the CSLB to take the examinations required to be issued the C-10. You will need to submit a certificate of work experience from any employer you have worked under. Additionally, you should be prepared to submit additional proof of your work experience, including:
Payment stubs and tax returns
Copies of any contracts you have signed related to your work experience
Testimonials of your work experience and knowledge
It's recommended you download the Application for Original Contractor's License packet from the CSLB website so you can review the licensing procedures.
A criminal record is not an automatic disqualification from earning a C-10 license.
Applications to the CSLB will ask for records of any convictions for misdemeanors and felonies. This will include any DUIs and other Vehicle Code violations. Failing to report convictions is considered falsifying your application, and the CSLB can bar you from filing another application for a maximum of five years. However, there are four key exceptions that should not be reported:
Arrests and convictions related to marijuana offenses occurring prior to January 1st, 1976, per Health and Safety Code §11361.5 (b).
Arrests and convictions related to specified drug offenses named in Penal Code §1000.
Juvenile court convictions.
Convictions that fall under the California Health and Safety code §11357 (b), (c), (d), or (e) or §11360 (b) that that are over two years old.
If you're unsure as to whether past criminal convictions must be reported, consult with a lawyer.
If your application is approved, you will receive a Notice to Appear for Examination from the CSLB, along with a request for your fingerprints within 90 days of the notice. They will have instructions for how you can have the prints submitted to them. After submitting your fingerprints, you can finally take the two required examinations.
C-10 licensee applicants must pass an Electrical exam, and a Law and Business exam.
The C-10 exams are closed book and multiple choice, and the CSLB has provided study guides to help applicants prepare for them. Each study guide provides a list of resources that the exams will draw from. Applicants have 18 months from the approval to take the exams to achieve passing grades. During this time, you may retake the exams as many times as you need to, though you will be charged a $60 rescheduling fee for each attempt.
C-10 Electrical Exam
The C-10 Electrical exam has questions divided into five categories:
Planning and Estimating
Rough Wiring
Finish Wiring and Trim
Startup Troubleshooting and Maintenance
Safety
C-10 Law and Business Exam
The required Law and Business exam is shared across multiple contractor licenses, and there is no exam that is specific to electrical contractors. The exam covers eight topic categories:
Business Organization (10%)
Business Finances (15%)
Employment Requirements (12%)
Bonds, Insurance, and Liens (10%)
Contract Requirements and Execution (23%)
Licensing Requirements (8%)
Safety (15%)
Public Works (7%)
Results are available at the test site once you complete the examinations. To help you prepare for the test, the CSLB has provided a study guide that includes a list of additional recommended study resources.
After passing the exams, you have more paperwork before obtaining your C-10 license.
If you pass the exams, you will receive instructions on submitting a surety bond, proof of workers' compensation insurance, and a licensing fee to the CSLB. Surety bonds must be in the amount of $15,000. The surety bond (or cashier's check) is required in case a customer sues for damages due to defective products, improper or faulty work, or violations of the contractors' state license law, and can also be used to cover unpaid pages for employees.
The CSLB website provides a searchable list of insurance companies  who provide these bonds. These bonds can be applied to every job a contractor takes on, but must be repurchased once the coverage provided is fully depleted. The CSLB also provides resources to help you search for workers' compensation insurance.
Once you have secured the necessary insurance and surety bond, and the CSLB has received the licensing fee, you will be issued your C-10 license. This includes a wallet-sized license that you must keep on you, as well as a wall certificate that must be displayed in your office(s).
After earning your C-10 Electrical Contractor License, you will legally able to start your own business.
With this license, you will be able to start hiring other contractors to work under you, with or without your direct supervision depending on their level of training and experience. You'll need to find potential office space, and start searching for potential clients or projects that you want to take on.
How your business grows will depend heavily on the knowledge and experience you have acquired over the years. Depending on what you focus on, you may find yourself working alongside other professionals on commercial electrical projects, or provide your valuable expertise for residential clients in single-family homes or multi-family units. Whichever you choose to focus on, or if you decide to tackle every job you can get your hands on, you can be certain that the skills of an electrical contractor will always be in need.
Ready to learn a skilled trade and work on some of the most exciting commercial construction projects in California and beyond?
I-TAP is an electrical apprenticeship program that helps you find your passion, grow your skills, and place you in the perfect electrician job.