How to Become an Electrician in California

BECOMING AN ELECTRICIAN IS GREAT WAY TO EARN A RELIABLE INCOME, AND OFTEN COMES WITH MANY OPPORTUNTIES TO ADVANCE IN YOUR CAREER. HERE IS HOW YOU CAN GET STARTED ON YOUR JOURNEY TO AN ELECTRICAL CAREER IN CALIFORNIA.

An electrical career is rewarding and rich with opportunity. Becoming an electrician in California—a state in the top five nationally for average electrician salary—requires training, but the process from beginning to end is pretty straightforward. 
Step 1: Find an electrical trade school
The first step towards becoming an electrician is finding the right electrical trade school for you. If you are unfamiliar with local trade schools, a quick Google search for "electrical trade school" will get you started. 
You shouldn't make a decision on where to apply based on the trade school that pops up first in the search results. Take some time to learn about multiple schools in your area. You can read more about each school on their website. We would even suggest contacting the school directly, especially if you have more questions about their program. It's also wise to read reviews, as there is a good chance that a former student or two has left thoughts about their experience. We also suggest visiting the school in person, to get a better idea of the classroom and lab setting that you'll learn in. It's a great way to determine which school will give you the most exposure to both hands-on and classroom learning.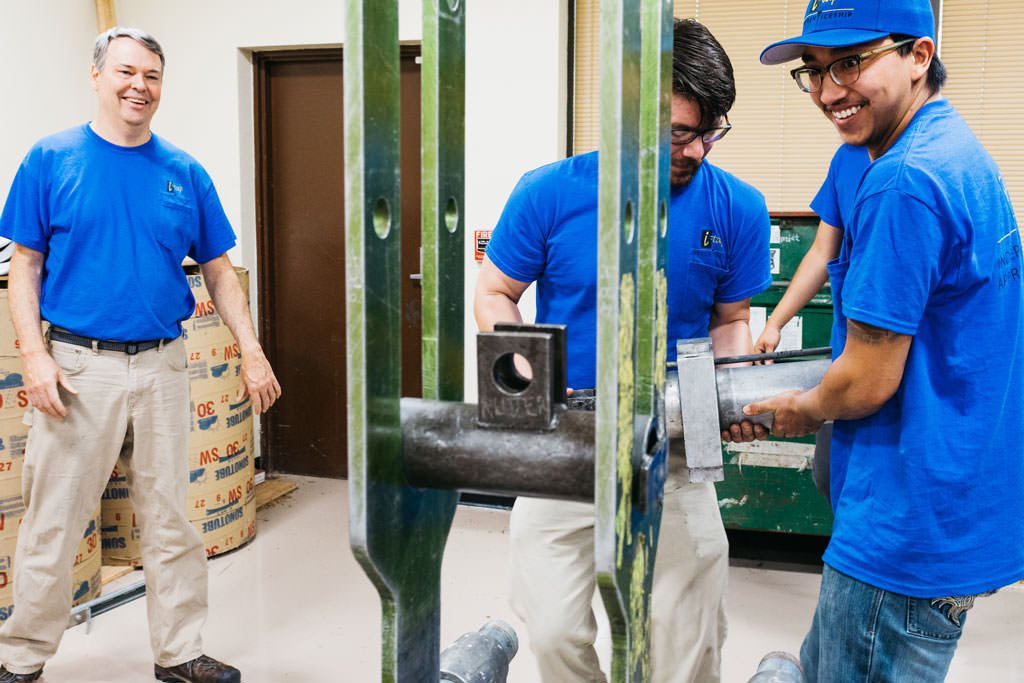 Some schools offer programs for multiple trades, so it is not uncommon to find a school that promotes certifications for everything from electrical trainees to dental assistants and alcohol and drug counselors, among other professions. However, other trade schools (like I-TAP!) are trade-specific, and only offer trainee programs for becoming an electrician. 
The one major difference is that a trade-specific school is entirely devoted to teaching one subject. These types of trade schools may have additional trade-specific facilities or labs in which to teach and train students. These trade schools also tend to hire instructors who are experienced in the trade, work for the school full-time, and tend to stick around for years or even decades. On the other hand, trade schools that are not trade specific will likely not have labs or other hands-on facilities, and hire instructors only on a seasonal basis.
Again, don't rule out any school based on search ranking or looks alone. As we mentioned, reach out to the school directly for more info about their electrical trainee program—admissions coordinators are always eager to talk!
Step 2: Apply to trade school
Once you have decided which trade school to attend, it's time to apply! This is a formal application process and is similar to applying to college or other higher education institutions. You may have to request an application form or additional application information directly from the trade school you want to apply to. 
Step 3: If you need to, apply for financial aid
Just like a traditional college, you may be eligible for a number of financial aid programs, including FAFSA, Pell Grants, Cal Grants, WIOA Grants, and more. Visit our webpage about funding your electrical education to learn more. You can visit the FAFSA website here. 
If you are a military veteran, you can apply the GI Bill to your trade school education. In most cases, the GI Bill will cover all tuition costs. GI Bill® is a registered trademark of the U.S. Department of Veterans Affairs (VA). More information about education benefits offered by VA is available at the official U.S. government Web site at https://www.benefits.va.gov/gibill.
It's not unusual for would-be students to feel stressed about covering the cost of going to school. Again, talk to the school's admissions or financial advisor! They are often very experienced in knowing where to look for financial aid and scholarships.
Step 4: Complete your electrical trainee program
The state of California requires electrical trainees to attain at least 720 hours of training before being eligible to take the state certification exam. The actual length of the program depends on the institution itself. Some trade schools teach more hours per week, meaning the program is completed in a shorter period of time. Other schools teach fewer hours per week, meaning the program is spread out over a longer period of time. One thing is for sure: it won't take four years to complete the program like traditional college. Most programs take less than a year to complete.
The electrical trainee course will cover a variety of topics: electrical theory, lighting and lighting control, motor control, national fire code, and more. 
Your program should also give you the opportunity to work hands-on in a lab-type setting to become familiar with the tools and equipment of the trade, and allow you to apply what you learned in the classroom. 
Once complete, you will have the skills and knowledge necessary to find employment as an electrician.
Step 5: Take the state certification exam
After you complete the course, you take the state certification exam, which covers the topics that you learned during the trainee program. Once you pass the test, it's just a matter of getting hired and working the necessary hours to become a journeyman electrician.
If you want to become an electrician, consider the 26-Week Trainee Program at I-TAP! The 26-week course teaches you everything you need to know to pass the certification exam and get a job as an electrician. Contact us today for more information.
Ready to learn a skilled trade and work on some of the most exciting commercial construction projects in California and beyond?
I-TAP is an electrical apprenticeship program that helps you find your passion, grow your skills, and place you in the perfect electrician job.