What's the Difference Between Trade School vs. College Education?

DID YOU GRADUATE HIGH SCHOOL AND SWEAR NEVER TO SIT IN A CLASSROOM EVER AGAIN, BUT NOW YOU'RE FINDING THAT MOST DESIRABLE JOBS REQUIRE TRAINING? YOU SHOULD KNOW THERE'S A BIG DIFFERENCE BETWEEN COLLEGE AND TRADE SCHOOL WHEN YOU'RE CONSIDERING YOUR OPTIONS.

Hundreds of the students who walked through our front doors graduated from high school thrilled at the fact that they would never sit in a classroom again. Many find themselves a little surprised when they end up at I-TAP, and even more surprised  that they enjoy going to school at I-TAP.
But let's back up a second. Let's say you've just graduated high school, or are about to graduate. Or maybe you've been out of high school for a few years and been bouncing around, and you're finally wondering "What's next?"
A lot of people graduate high school thinking they never want a job where they'd have to go to school. But most great-paying jobs require some sort of formal training. Maybe you've considered college as an option, but you should understand that college and trade school are very different things. One or the other may be a better fit for you.
For starters, college is much more expensive. And has little guarantee of a getting a job related to your field of study.
If you look at Sacramento State's website, you'll find that it isn't cheap. As of 2019, being a full-time student at Sacramento State costs $3,684 per semester. That works out to $7,368 a year. If you manage to graduate in only 4 years, you'll have had to shell out $29,472—likely in the form of student loans that will accrue interest until you pay them off.
You can save yourself some money by getting your general education classes out of the way at Sacramento City College. Two years of full-time tuition is certainly much cheaper—only $2,484. But you'll spend another $4,000 or so on books and other essential supplies. And then you'll have to transfer out to Sacramento State or maybe UC Davis to finish your degree.
But once you've got your degree, there's still the matter of getting a job, and a well-paying job at that. A few years ago a research study found that nearly half of college graduates end up being underemployed at their first job. Their jobs didn't require a degree at all and didn't pay as much, with an average salary of about $37,000 per year. That may be more than you make now, but it's not much when you've got tens of thousands of dollars in loans to pay off, and you have your current living expenses to still consider. It's likely you haven't been making much the last few years while you've been going to school.
Another study found that only 62% of people who graduated from college had a job that required a degree, with only 27% of graduates in jobs related to their field of study. How would you feel if you went to school to become an engineer and work out in the field, and instead you ended up working as a front-line customer service rep at an insurance company, answering customer calls all day?
It happens all the time. College educations teach you a lot, but they generally don't give you the hands-on education that you need to work a specific job, that employers will be looking for.
Trade schools like I-TAP take a different approach—teaching on-the-job skills that employers in your desired field specifically need.
In California and many other states, the law requires that for a person to work in a specific skilled trade, they must obtain relevant education. For instance, to work as an electrician—even if you're brand new and working an entry level job—you must have your electrical trainee card, which requires your enrollment in a state-approved electrical trade school. While this may seem annoying, the benefit is that trade schools know exactly the type of work situations that you will face as a new electrician.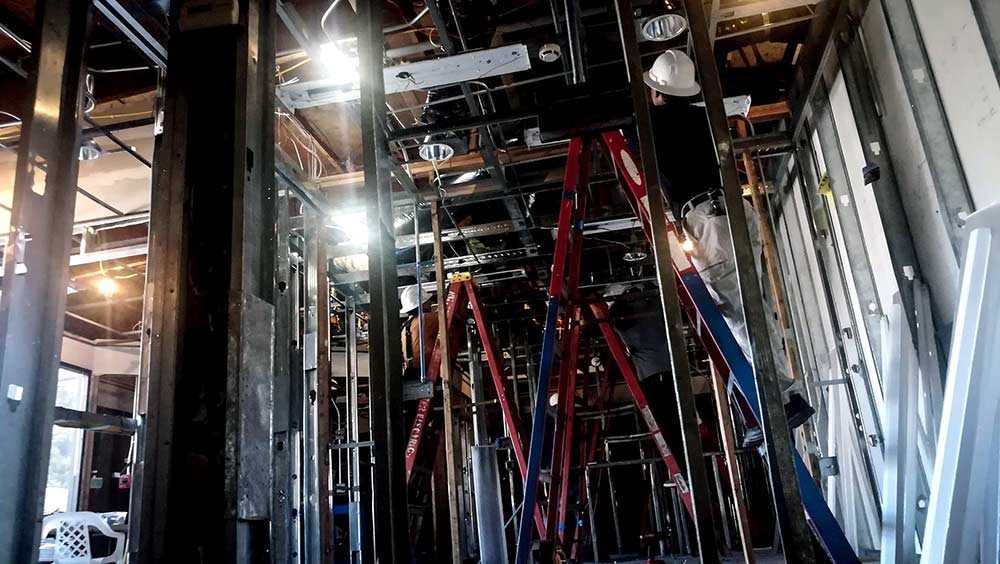 One of the best parts of this for people who didn't exactly love sitting in a classroom is that, while you will have plenty of classroom time in a trade school, you'll also get hands-on training as well.
Those guys in the photo above? They're not on a construction site, they're working in our training lab. You walk out of the classroom and down a hallway, and you'll find yourself in a stripped-down construction environment. Over the course of your classes, it'll be your job to wire it up and put it all back together.
You'll run wiring through the walls, upgrade existing systems, install electrical boxes and lighting, and much more. Our hands-on labs cover the following:
A/B, 1 pole, 3-Way and 4-Way Switching
Beginning and Advanced Pipe Bending
Drawing & Design
Fire Alarm & HVAC
Foreperson Training
Generators
Instrumentation
Lighting Control
Low Voltage Cable: Telephone/Data
Motor Control Stop/ Start/ Mag Starter
Motor Control: Bob's Grain Elevator
Motors ID: Hookup Winding Components
Meters
Title 24: Motion Sensors
Plan Reading
Power Tools
Fiber Optics
Transformers
Yes, you'll have book work. But you'll also learn how to do real-world things with your hands, which makes the book work that much more meaningful and easier to understand, because you'll see how it applies out in the field. And when you have those skills, employers will want to hire you as an electrician—exactly the job you've been training for.
If you're curious and want to see for yourself what an electrical trade school is like, you can fill out our contact form or give us a call at (916) 332-3332. We'll find a time that works for you to give you a tour of I-TAP, so you can see exactly where you'll be learning—and how you'll be learning—if you choose to give our courses a try. We hope to hear from you.
Ready to learn a skilled trade and work on some of the most exciting commercial construction projects in California and beyond?
I-TAP is an electrical apprenticeship program that helps you find your passion, grow your skills, and place you in the perfect electrician job.