An Interview with Dwight Stearne, I-TAP Recruiter

DWIGHT IS ONE OF MANY SUCCESSFUL I-TAP STUDENTS WHO HAVE RETURNED TO OUR SCHOOL TO ENCOURAGE THE NEXT GENERATION OF ELECTRICIANS.
I-TAP prides itself on having helped hundreds of students develop their skills as electricians and find career opportunities in a growing industry. We have been fortunate enough to have some of our students return to I-TAP to inspire the next generation of electricians, and pass on what they have learned in the field.
Dwight Stearne is one such former student. After spending years in the field as an electrician doing the job our instructors prepared him for, he now works for I-TAP as a recruiter.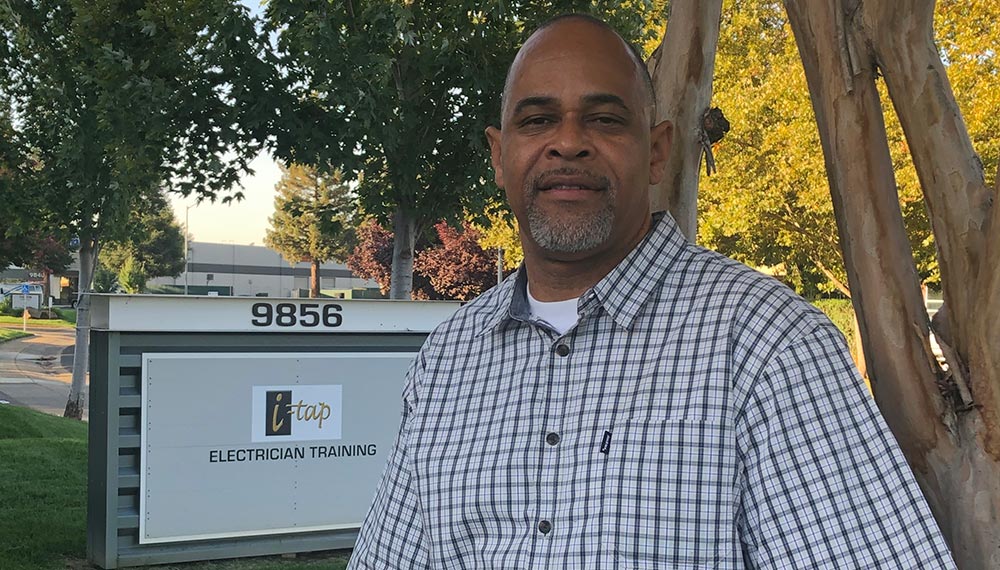 Dwight came to I-TAP after having worked in construction for over 20 years.
"I love construction, period," Dwight said. "That's my life's trade."
For 24 years, Dwight made a living doing general contracting work in residential construction. In his own words, he was born for carpentry, and for the hard work of the construction industry.
"I didn't have someone teach me how to build, it was in me all along."
But six years ago, he was forced to consider life outside of construction. He was commuting to a work site like usual, sitting at a stoplight when he was rear-ended by a truck. The crash broke his back. He spent months recovering from his injury.
"I was going through a lot of mixed emotions at the time… I was thinking, 'What can I do? What can I do to be allowed to live the type of lifestyle that myself and my family are accustomed to?'" But even while he was stuck at home, unemployed and working his way through his physical recovery, he knew that he needed a change.
"I knew that construction was the direction I should remain in, I just didn't know which trade I was seeking out."
As a general contractor, he'd done just about everything that could be asked of a skilled laborer on a construction site, save for electrical work. "Ironically, it just so happens that electrical had always been my weak point. As a contractor, I was kind of afraid of it."
His back injury made him reluctant to return to the same kind of work he had done before his injury. He knew that even with a full recovery, he would never physically be the same. It was during his search for new employment opportunities that he happened to see a TV commercial for I-TAP.
"I took the number down from the commercial, but I missed [part of the phone number]," Dwight recalled. Despite the setback, he was committed to his decision even before speaking to a recruiter. It was his chance to stay in construction. "The commercial came on again a couple weeks later, I took the number down again, and went right in. I walked in to sign up."
Even the recruiter who met with him was surprised at Dwight's fast decision!
"Within a moment or two, his response was 'Well, this is how our program works. Why don't you go home and think about it, contact us when you're ready, and I'll get you going.' I told him 'Nah, sign me up right now. I already thought about it. Sign me up right now.' And he said, 'Are you sure?' and I said again 'Sign me up right now.'"
Dwight joined I-TAP as a student in 2013. Six years later, he would come back again, this time to become an invaluable part of our team.
I-TAP courses are designed to push students of all levels to become qualified electricians. "It was by no means easy. But the thing is, my instructor put a lot into us."
Like all I-TAP classes, Dwight joined a group of students who came from all walks of life. Some were fresh high school graduates who were still trying to find a direction in life. Others had worked other professional trades, or in retail, and were seeking to change careers.
"A lot of students come to I-TAP living off minimum wage. Pennies. A lot of them come from places like Walmart, Target, things like that." Like Dwight, they came to I-TAP because they recognized that electricians are always in demand, and paid well. But there's a lot to learn, especially in our 26-week trainee program.
"There was a lot of different feelings [I had]. Doubt, discouragement, being afraid… I had to continuously kick myself along the way. 'Can I really get this? Is it really going to work out? I can't do this, I can't make it, I'm not going to make it.' But I did!"
I-TAP's program is designed to help students earn a California Electrical Trainee Card as quickly as possible. The students who pass are eligible for the California General Certification Exam, which trainees must pass to become Certified General Electricians. After getting his first job as an electrician, and training other growing electricians on the jobsite, Dwight can recall the advantages I-TAP students like himself had over their coworkers.
"These students come out of school, and they know the National Electric Code. They also come out ready because of the laboratories, the energy and time spent on these students, they come out of there skilled already."
"I-TAP students come to the field with skills. When they showed up on the job, they showed up ready to work. They had enough skills to join right in."
When Dwight graduated from I-TAP, he was better equipped to go to work wherever he was needed—and wherever he wanted. Like all I-TAP graduates, he had the knowledge to pass the Certified General Electrician's Exam.
"You have electricians who have been in the field for many years, and they don't have a journeyman's card. You have these I-TAP students coming to the field with a requirement their foreman doesn't even have."
He wasn't limited to book knowledge and theory. I-TAP's labs gave him practical, hands-on experience with the physical work required of electricians.
"A lot of these I-TAP students, they're already trained on wire pulling, on pipe bending, on things that many young electricians in the field don't even experience… for the first two or three years."
Some tasks might seem simple enough to experienced electricians. But when a new face shows up on the jobsite, someone usually has to show them the ropes of what to expect as a new trainee electrician, if they don't have the benefit of an extensive training program behind them. The additional knowledge and skills ingrained within I-TAP's students was appreciated by Dwight's first employer, who recognized him as their "Electrician of the Year" in an award ceremony.
Dwight was quickly called upon to mentor new electricians. From this new perspective, the I-TAP difference was made even more clear.
"I can't say what students at other schools are getting because I haven't been there, but I know I've always had to take them by the hand and teach them on the work site. I can't recall one I-TAP student I had to do that with."
The benefits of I-TAP for Dwight went beyond knowledge. "It's more than just the instructor teaching the book."
Electricians do work that requires a detailed understanding of building codes, electrical codes, and how to apply that knowledge in the real world. It's a skillset that will always be in demand, and Dwight's I-TAP instructors regularly reminded students that they would be highly sought after, but more importantly, they would be in a position to help each other in the job market.
"We're about to graduate, and my instructor said to us 'When you leave here, make sure you get everyone's contact information.'" For Dwight, it felt like joining a family. To this day, he remains in contact with many of his fellow graduates, and he believes that his time as a student with I-TAP offered professional benefits.
"It has helped me get work, and I know it helps students get work." Dwight believed that his success was due in large part to the support I-TAP provided throughout the course, the networking opportunities it provided, and of course, the skills he learned.
"When these students come out of school, they don't have to worry about 'Oh my God, where am I gonna find a job?' They have to think about 'Which one of these jobs do I want?'"
"When I first came out of school, the money wasn't there. But the opportunity was there. I wish I would have done it twenty-something years ago!"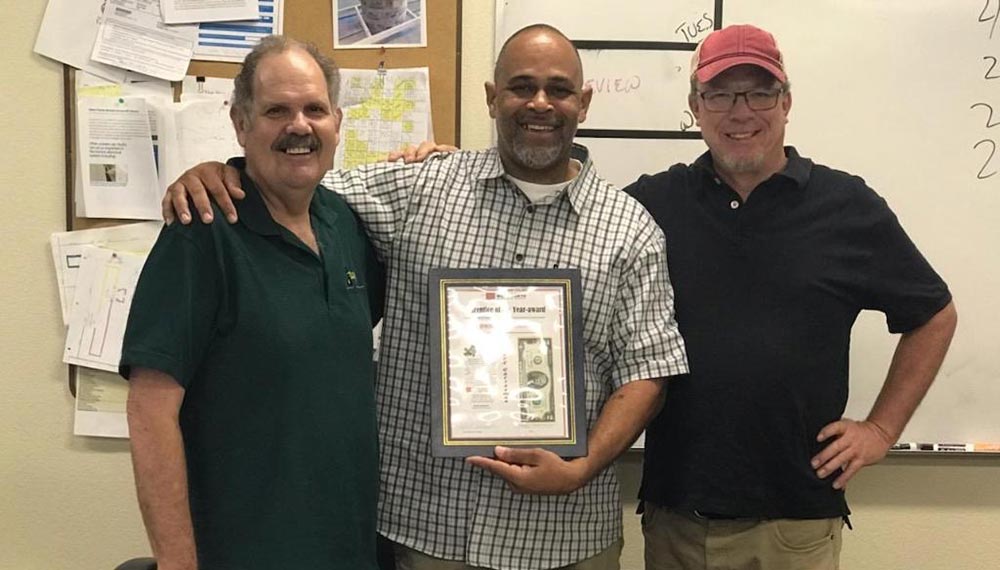 After graduation, Dwight was hired almost immediately.  His prior experience in construction, coupled with what he had learned at I-TAP, made him highly desirable. He was given a company truck within his first year, proof that his employers recognized his skills and reliability in the field.
"I didn't ask for one, I somehow earned it," he explained. "I was coming in as an apprentice, and had already earned that level of trust." He was not the only student to experience rapid growth with employers. Some of his own classmates became foremen on work sites thanks to their greater knowledge and skill compared to other entry-level workers.
"I've never seen someone come out of there after graduation without a job, unless they weren't ready to work."
But after five years in the field, most of which were with his first employer, Dwight felt it was time to give back to the school that had helped him become a successful electrician by joining I-TAP as a recruiter.
We are proud to have his first "Electrician of the Year" award on display–a gift to remind all of us at I-TAP that the hard work of our instructors, and of our students, makes a real difference in the world.
Ready to learn how I-TAP can make a difference in your life? Contact us today!
Ready to learn a skilled trade and work on some of the most exciting commercial construction projects in California and beyond?
I-TAP is an electrical apprenticeship program that helps you find your passion, grow your skills, and place you in the perfect electrician job.